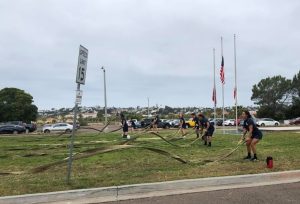 San Diego Fire-Rescue Department's fire academy instructors spent six Saturdays at the Training facility this spring, conducting the first Women's Fire Prep Academy (WFPA). The goal was to identify women interested in a career in firefighting and show them what it takes to make it.
Los Angeles County Fire Department (LACoFD) has run the WFPA for six years. SDFD Engineer Selena Laniel heard about it and thought it would be an excellent program to have here. She went to the LACoFD program each week to learn it and talk with the instructors. She then brought it to SDFD and met with the Fire Chief. He gave it the green light, and Engineer Laniel served as academy coordinator. She knows a little something about challenging yourself to succeed. She has competed in several seasons of the NBC TV program "American Ninja Warrior." She took it on with the energy she gives to her job, her daughters, and her Ninja training. Battalion Chief Rebecca Newell was the senior officer for the academy.
There was no budget for the program when the idea took shape, and the San Diego Fire Rescue Foundation stepped in to help make it happen. This is exactly what we mean when we say we can help provide what the city budget does not cover.
PHYSICAL ABILITY IS THE FIRST STEP
Without a considerable recruitment effort, 62 people RSVPd, 45 showed up the first day, and after a physical assessment, a class of 22 was chosen. "When women have failed at the Fire Academy, it has been on their physical ability, so we chose those who could make it and put them through basic academy preparation," Chief Newell said. "We felt it was too big of a bite to also help get them into shape."
That does not mean that it wasn't a physically demanding course. There were plenty of pushups, squats, conditioning drills, and mile runs. After the first Saturday, Newell told the class that they wouldn't make it if they were feeling beat now. But this wasn't about building brute strength. The objective was to teach familiarity with the equipment and positioning and leverage. "It's not about being able to pick up a ladder," Newell explained. "They're not heavy. But you have to be able to manipulate it and maneuver so you can use it."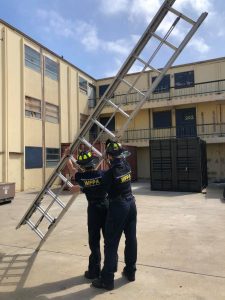 In addition to ladder manipulation, they worked on things like donning the thirty-pound self-contained breathing apparatus, controlling a fire hose, making a forcible entry, conducting search and rescue, and handling a chain saw.
IT'S ABOUT MORE THAN JUST HEAVY LIFTING
The program goes beyond those six weekend days. The class also got nutritional advice and mentoring on what to expect in the Academy interview. The WFPA joins the Girls Empowerment Camp (GEC) and the Candidate Assessment and Mentoring Program (CAMP) in seeking to introduce the fire service to potential candidates. These programs help motivated candidates get the conditioning they need by helping them prepare for the rigors of the Fire Training Academy, and the job. (Get more information about careers with SDFD here)
After six weeks of training, the 22 participants – 20 women and two men — graduated from the inaugural WFPA. Five of the women were accepted for the 92nd San Diego Fire Academy that started July 12, and several others are in the queue for the 93rd and 94th Academies.
Plans are now in the works for another Women's Fire Prep Academy, probably in the fall.