I recently sat down for a cup of coffee with Capt. Jason Shanley to talk about recruitment. If there's anyone who doesn't need coffee, it's Capt. Shanley. With a big smile and ready laugh, he talks a mile a minute and loves to joke. But he's serious about recruiting. Since 2016, getting people interested in becoming part of the San Diego Fire-Rescue Department has been his full-time assignment. And it's not necessarily easy.
Recruiting today has its challenges
His goal is not only to connect with people interested in the fire service but to get a wide variety of people interested. The recruiting effort fell victim to the 2008 recession. It was further complicated by the passage of Proposition B, which eliminated the defined benefit pension plan and replaced it with a 401(k), and of course, by the pandemic.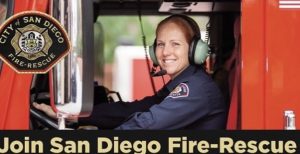 At one time, SDFD had one of the highest percentages of women firefighters of any department in the country. Capt. Shanley wants to get back to that number and go beyond it. "People think of 'diversity' and think of women and minorities," he says. "There are many forms of diversity: cultural, educational, ethnicity, and religion. The more backgrounds we can have represented, the better we will be."
With a minimal budget, he makes the best use of social media. He created the website joinsdfd.org, that's been incorporated into the City webpage, and @joinsdfd on Instagram. He knows that even if he hits his target, reaching out is a multi-pronged effort, more than just whetting a potential candidate's interest. "You can't just hand out a flyer to high school kids and think you have interested them in the job. Recruitment is spending time with them, touching base repeatedly."
SDFD PROGRAMS THAT SUPPORT RECRUITING
Shanley is the only recruitment officer in the Department, but there are other programs and efforts he can look to. The Fire Cadet program has been active since the early 1980s for people ages 16-21 who want to learn more about careers in fire safety. It's not a direct recruiting tool but does funnel many applicants to SDFD.
Since 2017, teenagers 14-18 have been invited to participate in Girls Empowerment Camp (GEC). Unlike the multi-year Cadet program, GEC is a free two-day camp that introduces campers to the fire service and gives them a hands-on overview of firefighting and the public safety careers available through the fire service.
More recently, the Department started the Women's Fire Prep Academy. It is for people who have met the eligibility requirements for the Fire Academy and want to be physically prepared for what they will face. For six consecutive Saturdays, they go through physical conditioning and not only get familiar with fire equipment but with the most effective way to manipulate it. Of the 34 candidates to complete the program, 20 have been hired, and 6 more are in the interview process.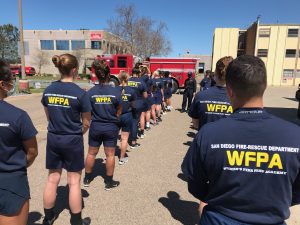 Capt. Shanley has become a familiar face in the three Fire Science programs at San Diego area high schools. Lincoln High School has had a program for several years, and more recently, Mount Carmel High School and Health Sciences High and Middle College have started teaching about careers in the fire service. Sweetwater High School only recently discontinued its program.
The job brings life-changing rewards
Unfortunately, Shanley can't pull up data to show that his efforts have directed a specific number of candidates to apply. No one asks how the applicants became interested in the career, so it surprised him about a year ago when a young firefighter still in his probationary year called out to him. "You probably don't remember me, but you spoke to my class and answered my questions, and here I am!"
That "probie" was Roberto Castillo, who says he didn't think a fire service career was possible when he first met Capt. Shanley.
His parents had been deported to Mexico, and Roberto was homeless for two years. By happenstance, he was taken under the wing of a retired Escondido firefighter and got his high school diploma and EMT certification. He worked for AMR for two and a half years before he took the step to apply to be a firefighter.
He got encouragement from Capt. Shanley and several retired fire captains and battalion chiefs volunteer to help prepare candidates for the written test and oral interview, which are crucial parts of the application process.
Firefighter Castillo is now nearly two years on the job, no longer on probation, and working at Fire Station 3 in Little Italy. Firefighter Castillo volunteers to share his story of getting a career with the San Diego Fire-Rescue Department whenever he can. It's a story he knows by heart. His own heart.
Learn more about careers with the San Diego Fire-Rescue Department here.