Have you ever stopped to appreciate the people and organizations keeping your community safe?
The hardworking crews at Fire Station 39 in Tierrasanta are among the many skilled professional firefighters in every part of the city who provide their expertise and relentless effort to serve San Diego. When the call comes, they are there to fight fires. But perhaps more important, they work hard to prevent fires in the first place.
STATION 39 BLENDS INTO THE NEIGHBORHOOD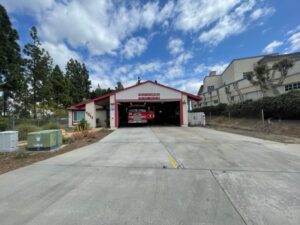 Driving down La Cuenta Drive, it is easy to miss Station 39 (unless the apparatus door is open, and the engine is out on the apron). The library next door is more visible; perhaps because the fire station is a modified 4-bedroom, 2-bathroom single-family house. It has been home to Fire Station 39 since June 1976, with one fire engine and an ambulance, 24 hours a day, 365 days a year, it is staffed by six first responders.
While Engine 39 will go wherever they are needed, their district covers 10.65 square miles, serving Tierrasanta and surrounding areas. Among those "surrounding areas" is the west side of Mission Trails Regional Park, which means they respond to a lot of calls for injured mountain bikers.
LIMITED SPACE MEANS A LOT OF CAMARADERIE
Year in and year out, Engine 39 responds to more than 1,700 calls a year, mostly medical emergencies. Capt. Lindsay Smith is currently a substitute fire captain at Station 39 and explains why the crews at Station 39 chose to be there. "The camaraderie among crew members is incredibly important since our station is one of the smaller ones in San Diego. With no place to hide in such a small station, getting along with our fellow crew is essential."

It is clear Tierrasanta's residents hold their fire station in high regard. Neighbors often show their appreciation with tasty treats or groceries, and the crew happily participates in community events, school visits, and tours. Captain Smith says, "One of the reasons our team loves working here is the sense of community support." With a strong bond between the community and its firefighters, Tierrasanta truly embodies the idea of a warm, tight-knit "Island in the Hills" community.