In 2021, the San Diego Fire-Rescue Department responded to nearly 1,500 rescues. Many of those involved hikers, bikers, and horseback riders caught in dangerous conditions. While people can be carried or airlifted from a trail, mountain, or canyon, a rescue involving a large animal, such as a horse, involves an entirely different level of risk for both the rescuer and the animal. Often, when a horse is injured, so is the rider. That means multiple rescues are happening simultaneously, each patient with different medical needs requiring their own rescue team. In those situations, the SDFD Technical Rescue Team (TRT) is called in.
About The TRT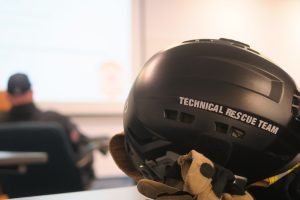 SDFD has 48 firefighters trained as Technical Rescue Specialists. Each one is certified to respond to any rescue emergency they encounter, including water and trench rescues, structural collapse, forcible entry, technical rope rescue, auto extrication, animal rescues, air operations, and more. The team trains daily on these disciplines to ensure they are ready to deal with anything that arises. Training exercises include the SDFD helicopter crew and board-certified veterinarians to help with large and small animal rescues in various settings. Horses are especially vulnerable when frightened or injured. The team must ensure that it can perform each rescue safely to provide the best possible outcome for all involved.
In the last two years, SDFD has responded to 67 animal rescues. Seven of those were horse rescues, two were airlifted and five were ground lifted. Other rescues involved everything from birds to farm animals—stuck in drains, wells, fences, and ditches or stranded in floodwaters. Animals have fallen down cliffs and hillsides and even been rescued from car engines and dashboard compartments.
SDFD is the county's largest fire-rescue department, which means its TRT can be called upon at any time to respond anywhere in the county.
We Need Your Help

Unfortunately, SDFD lacks the funds needed to provide crews with the technical equipment necessary for the program; equipment such as a horse mannequin for training, animal harnesses for airlifting and ground lifting, and a trailer to store and transport the equipment to the rescue scene.
"We ensure our team has the proper certified training prior to attempting any rescue to provide the highest level of service to the public. It's very challenging to perform these rescues without the proper equipment and I hope we can get the funding we desperately need." – Chief Aide Barbat
Animals are people's companions, working partners, and possibly their sole source of income. Without technical assistance, many people will risk their own safety to protect and save their animals, which may create a life-threatening situation for both the animal and the owner. Animal rescues challenge SDFD's technical rescue capability and may be risky. Large animal rescues require unique skills and equipment infrequently used to resolve an inherently dangerous situation in the best way feasible for the animal and the owner who loves and depends on it.
San Diego Fire-Rescue Department has not secured funding for this equipment through its annual budget. For this reason, SDFD has requested assistance from the San Diego FireRescue Foundation in raising funds and finding opportunities to get this lifesaving rescue equipment into the hands of our technical rescue team.
With your support, we can provide the necessary equipment needed for our SDFD Technical Rescue Team. If you would like more information about the program, please contact wendy@sdfirerescue.org.