Pacific Highlands Ranch, just north of Highway 56 toward the east end of Carmel Valley, was a brand-new community when Fire Station 47 was built, and the ribbon cut in February of 2008. Built with an eye on the future, it has room for three fire apparatus and eleven people but currently houses one fire engine and a crew of four.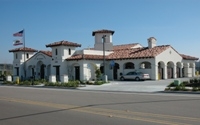 COVID-19 Continues to impact how crews operate
As it has for every fire station, the pandemic has changed a great deal about how the crews do their job. There is an extra layer of triage at the Emergency Communications and Data Center (ECDC) as the dispatchers ask screening questions to determine if the emergency is COVID-19 related. If it is, that information is relayed to the crews that are already on their way, and they ramp up their personal protective equipment, donning not just masks, gloves, and face shields but gowns as well. Once on the scene, the crews look for symptoms and gear up for even a low-grade fever.
The fire crews' inability to be as much a part of the community as they would like is another change brought on by the pandemic. In the "pre-COVID" days, the crews often gave tours of the station and went to schools to provide fire safety talks and show off the engine's equipment. It is a part of the job that doesn't get much attention, but the firefighters like to think they both work and live in the community, at least when they are on duty. Fire engines all over the city have traditionally been invited to street fairs, Christmas tree lightings, and Fourth of July picnics in the park.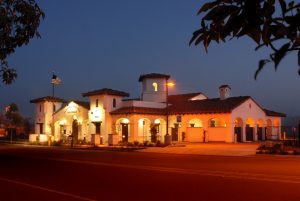 Station 47 was designed to grow with the community
Ask the firefighters, and they will tell you Station 47 is an excellent assignment in a growing community with two high schools, several middle and elementary schools. It is one of the newer stations in the city and has some lovely surroundings. Not every fire company can look out the window in the evening and see hot air balloons float by.
Captain Tony Zens has been at Station 47 for two years and has seen the neighborhood grow. While it is overwhelmingly a residential district, there is an increasing number of commercial buildings. For instance, a four-story, five-building office complex is currently under construction next door to the station.
Station 47 shares Carmel Valley's coverage with Station 24, which is just off Del Mar Heights Road, so the two engines are often in each other's district. John Wilson is in the unique position of having been a captain at both stations and knows the whole area very well. If Engine 24 is busy with one call and another comes in, Engine 47 makes the run. Engine 24's district is about three times larger than Engine 47's, and Wilson estimates that half of 47's calls are in 24's district.  Of course, that is the nature of the fire service. They go where they are needed.
This month's Station of the Month is sponsored by Sprung Insurance Agency.