The San Diego Fire-Rescue Department has several stations designated as "specialty" stations, crews that handle responsibilities in addition to the usual call to duty. San Diego Fire Station 40 is one of those stations.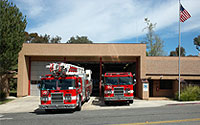 There's always something to do at Fire Station 40 in Rancho Penasquitos. Located on Salmon River Road across from the police substation, Station 40 was built in 1981. It is a "double house" with an engine and a truck. But it doesn't stop there. The crews are all cross-trained to operate a brush rig, a water tender to take water to areas in a wildfire where there aren't hydrants and a "light and air" truck that can fill the firefighters' air bottles for prolonged incidents and provide bright light for night operations. Add an ambulance, and you can imagine that the apparatus floor is crowded.
CREWS ALSO INSPECT AND REPAIR LADDERS ON ALL THE FIRE APPARATUS
That's not all that goes on at Station 40. The Fire-Rescue Department maintains and repairs a lot of its equipment "in-house." At Station 40, the crews are responsible for the repair and inspection of the ladders on all the fire apparatus. There are three ladders on each engine and ten ladders on each truck. They get a lot of use. Rivets can come loose; the aluminum can crack, the halyards (ropes and pulleys for extending ladders) need replacing. The firefighters at Station 40 handle all of it. And a fire ladder is not just any aluminum ladder. If it's subjected to intense heat at a fire for a prolonged period of time, there's a heat sensor on the ladder that lets the crew know that it needs to be inspected to be sure it's safe before it is used again.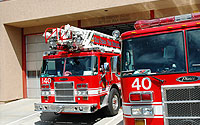 And there's more. The crews at Station 40 take on repairing all the small manual tools with wooden handles, like axes and pike poles.
By the way, between them, the crews of Engine 40 and Truck 40 ran 2,100 calls last year.
The April Division and Station of the Month are sponsored by Cathy Peterson & Farmers Insurance of Poway