Until recently, Fire Station 35 was the only station in University City (UC), but not the only one serving the area. Station 27 in West Clairemont Mesa and Station 9 in La Jolla both came into the south end of University
City, along with Fast Response Squad 56 on Governor Drive. That stopped this year with the opening of Station 50. Squad 56 closed, and Stations 35 and 50 are the "first in" stations for all of University City.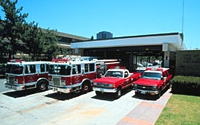 When it first opened, station 35 was on the UCSD campus. It moved to its current building, a few blocks north of University Town Center (UTC), in 1971.
From High Rises to Cliffs
In addition to the shopping center, the district's north end is predominantly office buildings, apartments, and condo complexes. There are hospitals and medical facilities and a lot of biotech companies. All of those pose unique challenges. The single-family houses in UC are primarily at the southern end and are now in Station 50's district. 35's district includes part of the UCSD campus and the Torrey Pines cliffs.
Those cliffs down to the beach in the gliderport area mean Station 35 works hand-in-hand with San Diego Lifeguards. Crews need to be ready to put their rope rescue techniques to use, whether it is someone who is just stuck in the wrong place on the trail and can't get up or down or if it's a medical emergency.
Looking to the Future
The crews at Station 35 are also preparing for the new trolley extension that will run from downtown to the UCSD campus and UTC. It is scheduled to open by the end of the year. The Metropolitan Transit System has helped train crews on how to access the cars of the trolley and render them safe, disconnecting the cars from their electrical power. The added complication for Station 35 is that much of the trolley line that runs through their district is elevated.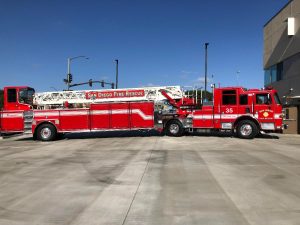 Fire Station 35 has a brand new "tiller" truck. The only other one in the city right now is at Station 1 downtown. The tiller, or tractor-drawn truck, is steered at both the front and back. A firefighter in the rear of the truck steers the rear wheels. It is larger than the current fire trucks the Department has and can carry more equipment. And, the tiller trucks are much more maneuverable. Station 35's crews regularly train with the new truck and conduct driver training for crews from other stations.
Oh, and the two crews at Station 35 together manage to run about 5,100 calls a year.
The May Stations of the Month are sponsored by Farmers Insurance Agent Kevin Cox.