If you walk your dog in Normal Heights and it needs a drink of water or a dog biscuit, you know you can stop by Fire Station 18. There are always a couple of bowls out front. It's just that kind of place.
Serving Normal Heights and Kensington, the crews want to be part of their community. Although they aren't giving tours of the station during the pandemic, you might see kids kicking soccer balls in front of the station. And they serve as the authoritative voice for the Normal Heights Fire Council, providing fire safety and prevention advice.
It is primarily a residential district, though the station is just a block off the Adams Avenue Antique District, which includes several restaurants and bars. Both Interstate 8 and 15 run through the district. That not only means they are called to highway accidents and rescues, but it is one of the engines called out for fires anywhere in the eastern core of the city.
When OES calls, Station 18 Responds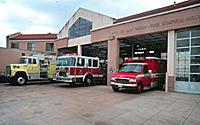 Station 18 has one engine and an ambulance, plus a State Office of Emergency Services (OES) fire engine. That engine can be called out by the state at any time, to go just about anywhere. When the OES engine is called out, the on-duty crew at Station 18 takes it there. It is an all-hazard engine, but its primary purpose of late has been wildfires. Captain Joe Amador says the OES rig was gone most of the summer. He and his crew were out for 16 days as part of a state strike team.
Amador has been the C shift captain at Station 18 for two and a half years, making him the senior captain at the station. He's quick to point out that the crews take pride in the station and put a lot of time and effort into the place. For instance, there's a mural on the apparatus floor that the crews did themselves.
It has been a part of Normal Heights since 1927, always on Felton Street. Back then, you could build a fire station for $10,800. A two-story building replaced the original fire station in 1989. The sleeping rooms are upstairs, and there's a traditional fire pole down to the apparatus floor.
When it was time for the old station to come down, the fire crews at Station 18 removed the doors and windows and then burned the station down as a training exercise. Not many firefighters can say they burned down a fire station! (Little known fact: one of the firefighters at Station 18 at that time was Tracy Jarman, who 17 years later would become the City's 15th Fire Chief).
The November Station of the Month is sponsored by Farmers Insurance Agent Scott Caraveo and Farmers Insurance.