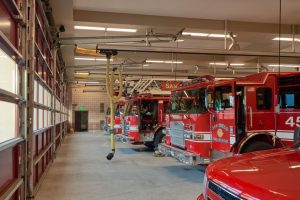 The eastern end of Mission Valley got its first fire station in 2006. Station 45 was a double-wide mobile home and a sprung-steel shelter in the far corner of the stadium parking lot and everyone understood it was a temporary fix for a portion of the city that was growing by leaps and bounds. In fact, planning for a station had already been going on for five years by then. But it was decided the area needed additional fire protection before the permanent station would be finished.
MISSION VALLEY GETS AN AWARD-WINNING NEW FIRE STATION
The ribbon was cut for the permanent Fire Station 45 on the opposite side of Friars Road in November of 2015.  The property had previously been overflow parking for the stadium. Let's just say the $11-million, 16,290 square foot station that replaced the mobile home is an upgrade. The station design was given the 2016 Gold Award by Firehouse Magazine. It houses two fire companies (that's eight people) and a battalion chief but has sleeping quarters for 16. It is a two-story fire station, and, has two, count them two, fire poles. To work at Station 45, you have to be a Hazardous Materials Specialist. To be a Hazardous Materials Specialist, you have to take six weeks of classes. After that, there are another 24 hours of training every year.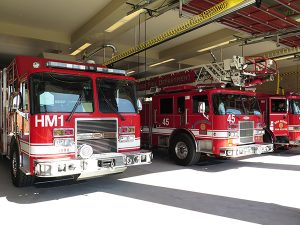 ABOUT THE SDFD HAZMAT TEAM
The Hazmat Team responds to chemical spills, fuel spills, and sometimes unknown substances, that might be of danger to the public. The two Hazmat trucks, in addition to carrying the equipment to handle the problem, have mini-laboratories to identify what they are confronting. The SDFD Hazmat Team is what is called a "Type 1" Team, which means they are also trained to identify and deal with chemical, biological, radiological, nuclear, and explosive weapons of mass destruction.
If there is a hazmat incident anywhere in the county, the San Diego Fire-Rescue Hazmat team and the County Department of Environmental Health (DEH) respond together as the Hazardous Incident Response Team (HIRT). HIRT is contracted with every city in the county and the unincorporated areas, as well as the Indian tribes, to deal with any hazardous materials issue. A fire company from Station 45 will respond in one of the two Hazmat trucks, along with two specialists from the DEH.

SO WHAT IS THEIR PRIMARY DUTY?
The Hazmat trucks each carry some 500 pieces of equipment, but the teams do not clean up hazardous materials. Their primary duties are to identify unknown substances encountered by the public or other emergency first responders and to rescue people trapped or injured by incidents involving hazardous materials.
This year, Station 45 also got a Hazmat truck funded by the state Office of Emergency Services (OES). Along with a lot of other equipment, the lime-green truck is outfitted for rail emergencies, such as derailments, that might involve hazardous materials. OES dispatches the truck, and it could be sent anywhere in the state. The next closest OES Hazmat truck is in San Bernardino.
And of course, 45 is not just Hazmat. The fire companies operate a fire engine and fire truck as well. In 2019, Engine 45 responded to 2,910 calls. The Battalion Chief who is headquartered at Station 45 is responsible for the day-to-day operation of seven fire stations, from Mission Valley to Cowles Mountain and from Tierrasanta to City Heights.
This month's Station of the Month was sponsored by Selene Munoz Rico Insurance Agency.